Vision
Next Stage 2030
About KANA
Forging ahead with KANA
Since the 1990s, KANA has pursued a vision of becoming a unique, "one-of-a-kind" global corporation and has continued to grow as a result. We made strides towards achieving our vision by establishing sales and logistics bases in China (2007) and Thailand (2019), creating a collaborative global supply chain linking Japan, China, and Thailand. KANA renews its commitment to this vision, focusing on becoming the world's most stable energy transmission product supplier and continuing its overseas expansion.
Next Stage 2030
By March 2023, KANA becomes the world's most stable supplier
of energy transmission products.
KANA's vision for the future
From a dependable brand to a trusted brand
where stable supply is assumed as a matter of course.
KANA has always been relied upon
for the convenience we offer our customers.
However, looking ahead, we are committed
to further enhancing our supply stability.
We aim to elevate customer satisfaction
and instill greater peace of mind in their dealings with us.
By adding more value at an ever-increasing level,
we aspire to become a trusted corporate group
that exceeds customer expectations every time without fail.
Long-Term Vision
Keep production rolling: KANA's intrinsic value
KANA recognizes that customers demand stable production from manufacturers (clients), while suppliers (parts suppliers) face the ongoing challenge of delivering high-quality products at competitive prices with faster delivery times. Bridging these divergent needs is the essence of KANA's value as we strive to keep manufacturing rolling.
Challenges faced by purchasers (clients)
Short delivery times
Disruptions in delivery due to natural disasters or international situations
Sudden increases in purchase prices
Consistency of product quality
Balancing cost and quality considerations
Managing stock-outs and inventory burdens
Addressing technical succession issues due to a lack of successors
Countering supplier reductions caused by business closures
Challenges encountered by suppliers (parts suppliers)
Meeting demand for fast delivery
Challenging quality and service demands
Coping with escalating material costs and excessive cost demands
Responding to digital transformation (DX) demands
Handling work-in-process inventory burdens to meet deadlines
Purchase price reductions stemming from sales dependency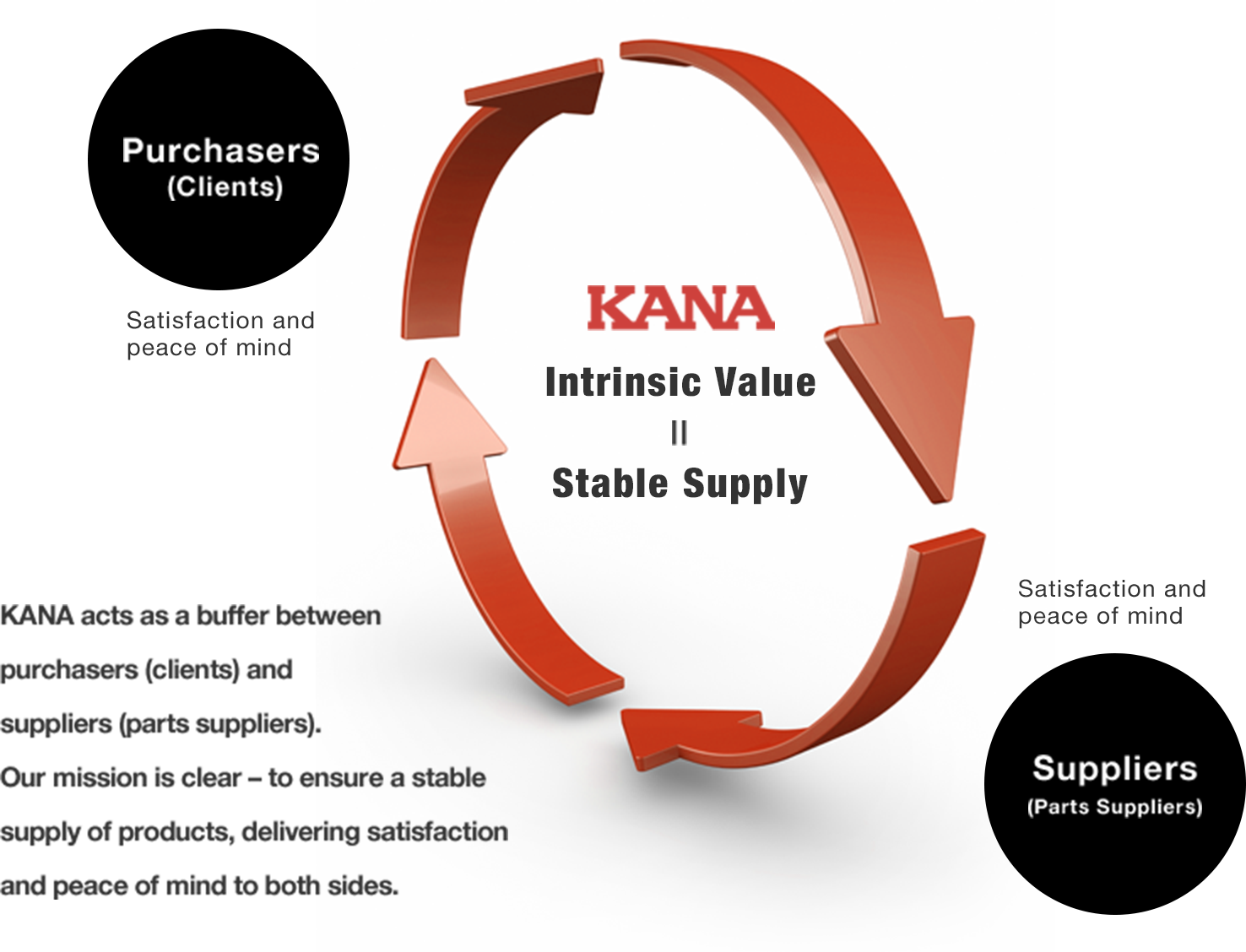 KANA aims to become the most stable supplier in the world
KANA is dedicated to achieving unparalleled stability in energy transmission product supply, elevating satisfaction, and instilling peace of mind. When we talk about stable supply, we mean stability in quality, pricing, delivery timelines, and technical support. We aim to become a trusted brand that routinely exceeds customer expectations without fail by meeting the demands for stability from clients and suppliers at the highest level.