CSR Activities
Corporate Information
Social engagement: KANA's contribution to a sustainable future
As a responsible corporate citizen, KANA aims to foster a sustainable society through its CSR policy. We engage in community activities, educate the public, and promote initiatives that contribute to developing a sustainable society.
Results briefing from Scramble, a next-generation robotics engineer support organization
In 2022, Scramble conducted its annual results briefing at Keihanna Open Innovation Center @ Kyoto (KICK). The event brought together Scramble and its sponsors, all united by a common goal: to invigorate Japanese manufacturing and tackle challenges through innovation, highlighting the passion that drives our collective efforts. In contrast to other countries where robotics competitions are increasingly common, Japan offers limited opportunities for children to explore technology. We remain committed to supporting such initiatives that promote Japanese manufacturing.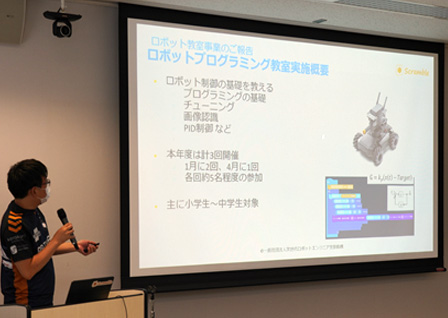 Scramble's Annual Briefing highlights
During the 2022 briefing, Scramble provided a comprehensive overview of its accomplishments and technological advancements as part of the robotics competition.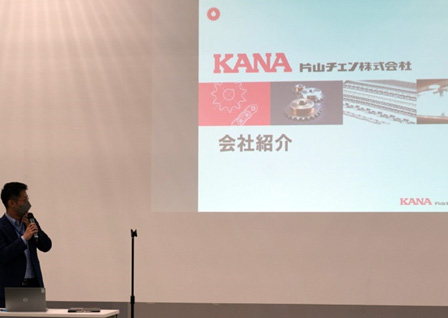 Connecting aspiring engineers with sponsors
At the event, students aspiring to become the next generation of robotics engineers had the opportunity to interact with sponsor companies, a rare chance to engage with industry professionals beyond their everyday experience.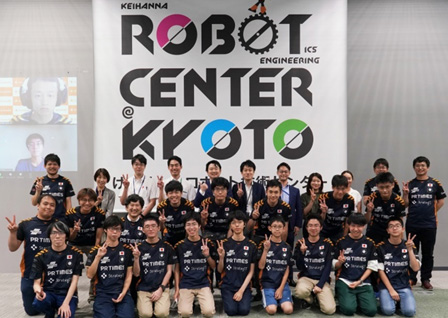 Demonstration at Keihanna Robotics Engineering Center
The event featured a robotics demonstration at the Keihanna Robotics Engineering Center, the focal point of Scramble's activities. Witnessing the robots in action, driven by advanced technology and passion, left a lasting impression on the attendees.
KANA signs sponsorship agreement with Scramble
On May 23, 2022, KANA formalized a sponsorship agreement with Scramble, an organization dedicated to nurturing the next generation of engineers and revitalizing the manufacturing industry and culture. Our shared desire to support the world's future paved the way for this fruitful partnership. We are eager to continue promoting Japanese technologies and actively develop the engineers of tomorrow.